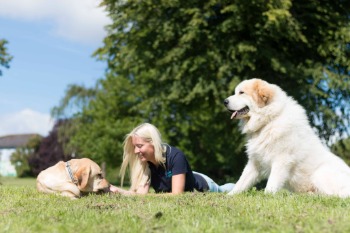 Co-Evolve is run by clinical animal behaviourist, Dr Michelle Lord.  Michelle is a full member of the Association of Pet Behaviour Counsellors (APBC), an international network of experienced and qualified pet behaviour counsellors.  Most pet insurance companies cover Michelle's consultation costs.  Michelle has worked as an honorary research fellow at the University of Bristol's Animal Behaviour and Welfare Department.  During this time she worked on a study of the risk factors for human-directed aggression in dogs.  Results of her study have recently been published in the peer reviewed scientific journal 'Veterinary Record.'
Michelle is currently working at the Royal Veterinary College's Clinical Investigation centre on the ground-breaking research project 'Generation Pup.'  Generation Pup is a long-term study of the behaviour, health and welfare of dogs throughout their lives.  The results of this study will be used to develop management and prevention strategies for a wide range of behavioural and health problems in dogs.
Owing to her research commitments, Michelle only sees a limited number of behavioural cases.  She believes that her consultations with clients compliment her research work, and vice versa.  Being at the forefront of canine research is a vital component of being able to help owners with their dogs, as we are learning more and more about dogs and their behaviour through scientific studies.  Unfortunately the dog training and behaviour industry is largely unregulated, with many 'trainers/behaviourists' using outdated methods which are detrimental for both owners and their dogs.  For more information about Michelle's qualifications and what they mean please see below.